Simple Floor-Slab System Assembled from H20 Timber-Beam Greed.
Flexible grid system for every layout
Cost-efficient due to reusable capabilities
Only five components: tripods, props, 4-way head, H20 timber beams, plywood
High-load props — 20 kN rating — no matter how far they are extended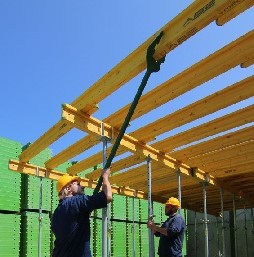 TM Flex - System Deployment
Removable folding tripods, which are quick and easy to mount.
Complete flexibility by simply stripping or spreading the system, cast concrete slab thickness between 15 and 50 cm.